Art Access Guide 08

Thank you for your inquiry regarding our Guide to Art Basel Miami Beach, the Art Access Guide. This year, we are focusing our efforts on other projects and have put the Guide for the December 2008 season on hold.

We wish you all the best in organizing your time this year, as many fairs have changed their locations, several have left us and new ones have joined Miami this season. As always, there will be dozens of events to see.

Feel free to 'Join Us' through our site, so we can keep you posted of our upcoming projects.

All our best,

Heather Urban
President





Art Access Guide 07: Art Basel Miami Beach Edition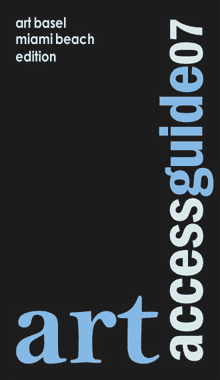 Monday, December 3 – Sunday, December 9, 2007
The Art Access Guide is a sleek, compact and necessary Guide that will walk users through all of the must-see exhibitions, art events, street parties, art fairs, design-related exhibitions, special tours, art talks, lectures and new private collections showcased during Art Basel Miami Beach week 2007.
The Art Access Guide is the only Art Basel week guide comprised exclusively of the most important and highest quality art related events. All listings are based solely on artistic merit, not paid listings, making the Art Access Guide the most sought after guide for avid collectors and art enthusiasts alike.
Art Access Guide organizes the extensive amount of information by providing comprehensive daily listings of what to see, recommended daily tips to help manage your time, and an overview with additional information on all the venues so users know where to be and when.
Art Access Guide also includes rare local and insider knowledge on outstanding private performances, artist appearances, special lectures and art talks, and behind-the-scenes tid-bits that make this Guide truly extraordinary. Art Access Guide encompasses all the necessary information and more to navigate you through the week with ease.
The Art Access Guide is not for sale and is distributed privately. If you wish to join our exclusive list and receive information on the Guide, please click here.